Encounter fascinating ecosystems at your school or workplace. We bring wildlife education to you wherever you meet. 
Our biweekly love letter podcast exploring a straightforward thesis: grasslands are the best biome. Find it wherever you get your podcasts.
The first step to conservation is learning and loving. Explore a diversity of grassland ecosystems and their stories.  
Grasshoppers As an important component of the ecosystem, grasshoppers may yet save the world… if they don't destroy it first.  Time to Evolve Few people...
Read More
The U.S. hosts a globally imperiled ecosystem not many recognize: the Oak Savanna. Let's restore this once ubiquitous, parklike grassland.
Read More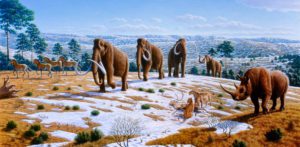 The concept behind Pleistocene Park is deceptively simple: rewild the Pleistocene Siberian arctic, slow the effects of climate change in the arctic. All it takes...
Read More
Two prairie biologists make the ever-growing argument for why grasslands are the world's best biome. 
Listen Online
Inspiring conservation of grasslands.
Civic engagement, outdoor exploration, science literacy
Curiosity, action, learning, and discovery
Foster and develop bonds between people and their ecosystems.
"The first step in conserving anything is an awareness of the value of its existence. Without getting to know an animal, plant, or person, one can intellectually respect is right to life but one cannot truly feel its worth or know what is required to save it."

- Con Slobodchikoff, "Prairie Dogs"
Grassland news in your inbox
We stalk grassland news and research drops so you don't have to. Plus updates on what our team is up to.
Donations Graciously Accepted!
Grassland Groupies Inc. is a nonprofit organization in the state of Kansas currently awaiting 501(c)(3) status.
No goods or services will be provided in exchange for this donation except our eternal gratitude. EIN: 86-2282759