The Best Biome
Two prairie biologists make the ever-growing argument for why grasslands are the world's best biome.
#25 – Disease-ridden Bloodsuckers
Content Warning: talk of blood. The last of our "spooky"-themed episodes, let's talk about ticks! How do they feed, what kind of diseases do they carry, and how best to prevent getting sick from them. Did you know there are over 900 species of ticks and they live quite literally everywhere? Well, now you do. Be safe out there.
Thanks for listening to our exploration of why grasslands are the best biome. We'll see you in two weeks!
Primary Sources: Be sure to check out photos and more at our site!
Search Results placeholder
Dive deeper into the topics featured on our episodes.
Grasshoppers As an important component of the ecosystem, grasshoppers may yet save the world… if they don't destroy it first.  Time to Evolve Few people...
Read More
The U.S. hosts a globally imperiled ecosystem not many recognize: the Oak Savanna. Let's restore this once ubiquitous, parklike grassland.
Read More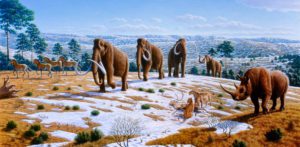 The concept behind Pleistocene Park is deceptively simple: rewild the Pleistocene Siberian arctic, slow the effects of climate change in the arctic. All it takes...
Read More