The Best Biome
Prairie biologists make the ever-growing argument for why grasslands are the world's best biome.
[S2E4] Lifestyles of the Secretive and Soggy (Henslow's Sparrow)
Episode Notes
What does the American South and the Tallgrass Prairie have in common? Their grasslands support an elusive little grassland specialist that the old timey ornithologists roast way too hard: the Henslow's Sparrow. In this episode we explore the beloved longleaf pine savannas of the southern US, and ask why a little grassland sparrow who hates trees chooses to spend its winters among the longleaf pines.
Photos and more are at our site.
Primary Sources:
Harrington, Tim; Miller, Karl; Parks, Noreen. 2013. Restoring a disappearing ecosystem: the longleaf pine savanna. Science Findings 152. Portland, OR: U.S. Department of Agriculture, Forest Service, Pacific Northwest Research Station. 6 p.
Herkert, J. R., P. D. Vickery, and D. E. Kroodsma (2020). Henslow's Sparrow (Centronyx henslowii), version 1.0. In Birds of the World (P. G. Rodewald, Editor). Cornell Lab of Ornithology, Ithaca, NY, USA. https://doi.org/10.2173/bow.henspa.01
Contact WebsiteFacebookTwitterinfo@grasslandgroupies.org
This podcast is powered by Pinecast.
Search Results placeholder
Dive deeper into the topics featured on our episodes.
Patagonian Maras are a unique rodent with one of the strangest social structures of any mammal.
Read More
Saw-filled mouths, magical spit, and so much more. Ticks are truly marvelous little bloodsuckers.
Read More
The U.S. hosts a globally imperiled ecosystem not many recognize: the Oak Savanna. Let's restore this once ubiquitous, parklike grassland.
Read More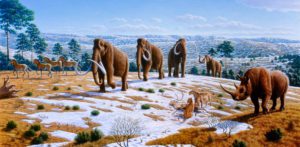 The concept behind Pleistocene Park is deceptively simple: rewild the Pleistocene Siberian arctic, slow the effects of climate change in the arctic. All it takes...
Read More