The Best Biome
Two prairie biologists make the ever-growing argument for why grasslands are the world's best biome.
#24 – Bring Out Your Dead (Part 2)
Content Warning: talk of dead things (not graphic). Old World Vultures have a different set of tricks in order to survive including eating fruit, bones, and garbage. We talk Bearded Vultures, Eurasian Griffons, and more in this part two of our vulture special.
http://savebellbowlprairie.org – save this Illinois prairie by Nov. 1st! Included is more information on the prairie itself as well as easy actions to take in the next two weeks. Please share to bring awareness before it's too late!
Thanks for listening! Liked this episode? Why not share with a friend?
Primary Sources: Be sure to check out photos and more at our site!
Search Results placeholder
Dive deeper into the topics featured on our episodes.
Grasshoppers As an important component of the ecosystem, grasshoppers may yet save the world… if they don't destroy it first.  Time to Evolve Few people...
Read More
The U.S. hosts a globally imperiled ecosystem not many recognize: the Oak Savanna. Let's restore this once ubiquitous, parklike grassland.
Read More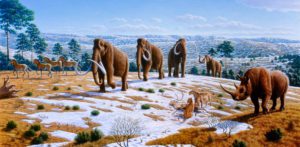 The concept behind Pleistocene Park is deceptively simple: rewild the Pleistocene Siberian arctic, slow the effects of climate change in the arctic. All it takes...
Read More